Your Canadian Source for Holograms
All of our holograms are custom made in about 14 working days. We do not offer off the shelf hologram labels. Our Dot-Matrix holograms are more vibrant and cost effective than glass master holograms, yet have all the same features.
Holograms are mostly used to prevent counterfeiting, although they can add a unique touch to your printed pieces as well. As one of the most recognizable security solutions on the market your customers will instantly recognize your brand as the real deal.
Hologram Uses…
Anti-Counterfeit Protection Product Packaging Security Labels ID Credential Cards Parking Permits and more…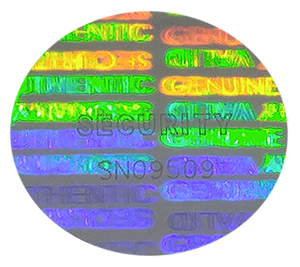 Forgery? Not with our holograms!
From the surface holograms are multi-coloured foils but if you travel down the rabbit hole with me you will find they are so much more. Each hologram can contain 15 different refraction layers and each layer can have text that only a microscope could read, making a forgery extremely difficult. Hidden patterns can be embedded that can only be revealed with the use of a special laser pen allowing you to validate real holograms very quickly.
Most Popular Hologram
Our most purchased product is a 2-layer hologram security label. These are tamper evident and are destroyed with an attempted removal. We can also produce a Hologram for clothing that removes easily with no residue.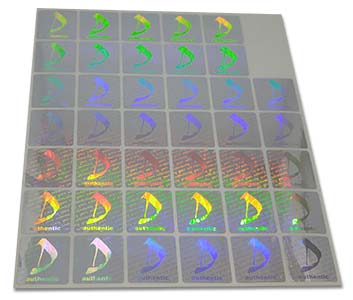 Our Holograms:
Cannot be scanned by computer.
Cannot be reproduced with a photocopier.
Cannot be removed and reapplied without complete destruction (tamper evident).
Provides quick and easy optical product authentication.
Enhances packaging appeal.
Improves consumer brand awareness.
Additional Features:
Low Minimum Order
2 Week Turn-Around
Ships from Canada
Serial numbering printed or lasered
Custom shapes and sizes
CMYK or Pantone overprinting
Tamper Evident Adhesive
Laser readable hidden text
Pattern release tamper evident (VOID)
Rolls or sheets
Microscopic Type
Colours: Silver, Gold, Transparent, Blue, Pink, Green
Speak to a Hologram Expert
Call today so we can discuss your Hologram needs further. We have a variety of holograms for you to view in person in order to understand the different features.